Do You Have 200 or More Bank Products? Then Ask About Our Free Tax Software Program!
Enjoy huge rebates up to $10,000!
To be competitive in the tax preparation business, you must be able to deliver taxpayers the refund solutions they demand, that where bank products come in. Through Keystone Tax Solutions, you will be able to offer your service without the necessity of the taxpayers paying your tax preparation fee out-of-pocket. Rather, our banking partner will withhold your prep fee from the taxpayers' refunds and authorize you to print refund checks and issue debit cards from your tax business. In addition, you will be able to offer up to $5,000 Cash Advances to your clients. Your Clients Refunds Will be dispersed via
Direct Deposit
Debit Card
Check
Who Are The Banks?
Refund Advantage
Support: (800) 967-4934
http://www.refund-advantage.com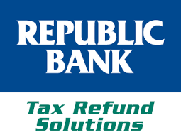 Republic Bank
Support: (866) 491-1040
http://www.republicrefund.com

Santa Barbara TPG
Support: (800) 779-7228
http://www.sbtpg.com